Hastings aquarium's phantasmal frogs 'among most deadly'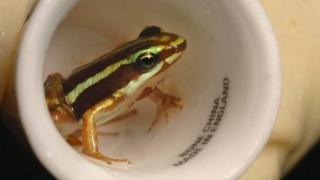 Deadly frogs that are the size of a fingernail have been given to a aquarium in Hastings, Sussex.
The phantasmal frogs are among the world's most toxic amphibians, the Blue Reef Aquarium said.
The frogs were donated by an amphibian specialist in Kent after they were born as part of a captive breeding scheme.
Despite their danger in the wild, it is hoped that the frogs could help save lives because of the painkilling properties in a chemical in their skin.
Aquarium spokesman Chris Ireland said the phantasmal frogs were an endangered species and it was hoped the 10 donated baby frogs could one day become part of a satellite breeding colony at the aquarium and ease pressures on the wild population.
'Danger in the wild'
"At the moment they really are tiny, but even when they are fully grown they still only measure a couple of centimetres," he said.
"It's amazing such small amphibians can be quite so dangerous in the wild."
Acording to the aquarium, the frogs' poison is reputed to be 200 times more powerful than the drug morphine.
Scientists have discovered an extract from the frogs' skin can block pain significantly more effectively than morphine, without addiction and other serious side effects.
The frogs, which are bright red with three greenish fluorescent stripes, are found on the Andes in Ecuador, where it is thought they are surviving on seven sites.