A14 toll would reduce taxpayer burden, says Nick Clegg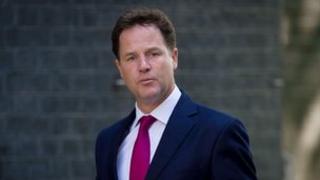 The UK's first toll road in 10 years is necessary to "share the burden" of the £1.5bn upgrade cost of the A14, the deputy prime minister has told the BBC.
The Highways Agency proposes to charge motorists on a stretch of the road in Cambridgeshire to fund improvements.
Hauliers said the lack of alternative routes meant they would effectively be forced to pay the toll.
Nick Clegg said: "You have to share the burden a little between taxpayers and people who actually use the road."
The Highways Agency is currently consulting on its plans to improve sections of the A14, which links the ports of Felixstowe with the Midlands and M6 via Cambridgeshire and Northamptonshire.
'Persuasive' idea
It wants to build a new stretch of A14 between Ellington and Swavesey and widen the A1 between Brampton and Alconbury.
As part of the plan, the current route of the A14 will be closed as a bridge at Huntingdon is demolished.
About 20% of the cost of the improvements - £300m - is expected to be raised by tolling a 12-mile (19km) stretch.
Mr Clegg said: "We all need to ask ourselves questions about how we make sure we get the new roads, the new bypasses, the new capacity on the congested parts of our road network, but make sure that the taxpayer isn't on the hook for everything."
He said while he understood some people were "unconvinced" by the idea of a toll, he hoped they would "find the idea persuasive as it is rolled out".
"There are other parts of the network - bridges and other bottlenecks - where people do pay tolls and are used to doing so," Mr Clegg said.
"It is all part, frankly, of a new world we're in now where we can't just expect the taxpaying public to pay for everything.
Asked about the additional cost to hauliers, some of whom have said a toll would add hundreds of thousands of pounds each year to their costs, Mr Clegg said: "I'm sure a haulier will also give you a calculation about how much they're losing because of delays on the A14.
"This is the thing you have to balance."
The proposed route would be the first toll route to be introduced since the M6 Toll in 2003.