West Midlands UKIP MEP Mike Nattrass quits party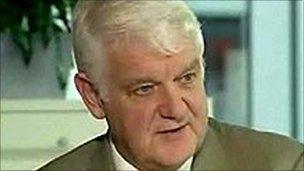 A UK Independence Party MEP has quit the party in protest at Nigel Farage's "totalitarian" leadership.
Mike Nattrass, a West Midlands MEP, has been involved in a legal row with the party hierarchy over his deselection as a UKIP candidate at next year's European elections.
He said only "cronies" of Mr Farage were being picked to stand.
"The process has been totally gerrymandered and fixed," he told Channel 4 News.
He added: "I belong to a party that now is totalitarian and it will not let the voter speak, because not only have they decided who will stand, they have also decided that the party members who should have a free vote will not get a free vote."
Mr Nattrass's constituency covered Herefordshire, Shropshire, Staffordshire, Warwickshire, the West Midlands and Worcestershire.
He could stand as an independent next year.
A UKIP spokesman said: "We understand that Mike Nattrass MEP is resigning from UKIP although we are only aware of this because of the interview this evening on Channel 4 news.
"I understand his disappointment at not being in the UKIP lists for the forthcoming election, but the shortlist was decided by a fair and comprehensive process and UKIP now has very many talented people coming forward, wishing to represent us."
Related Internet Links
The BBC is not responsible for the content of external sites.