Weardale Railway engine named for Mason-Dixon creator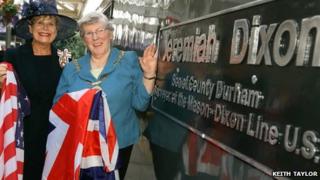 A freight train on a heritage railway line has been named after the County Durham-born joint creator of one of the most famous boundaries in the world.
Jeremiah Dixon was born in Cockfield in 1733. He became a surveyor and astronomer, and helped determine America's Mason-Dixon line.
One of the locomotives which transports coal on the Weardale Railway has now been named in his honour.
The nameplate was unveiled during a ceremony at Stanhope station.
Councillor Pauline Charlton, chair of Durham County Council, said: "It is most apt that this great man is still remembered in his home county, and what is more fitting than by having a train named after him.
"I'm sure he would have been honoured to know the high esteem in which he is still held, almost 300 years since his birth."
In 1763, Jeremiah Dixon and fellow astronomer Charles Mason were approached by Thomas Penn and Lord Baltimore to survey an accurate boundary between their respective American territories.
The resulting Mason-Dixon line came to signify the border between North and South, separating the free state of Pennsylvania from slave-owning Maryland.