Caroline Lucas: Brighton's protester politician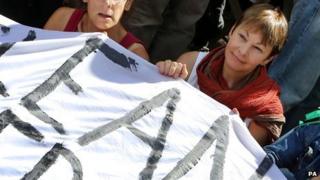 With just 20 months to go until the next general election this year's political party gatherings will be crucial.
The first of the season kicks off in Brighton where the Green Party gather on Friday.
It's a fitting venue as the city boasts the first green-led council and Brighton Pavilion MP, Caroline Lucas, is the party's only representative at Westminster.
She may no longer be Green Party leader but she's never far from the headlines.
Just last month, Ms Lucas and her son were among protesters arrested at the Balcombe site in West Sussex where energy firm Cuadrilla has been carrying out exploratory drilling for oil.
Fracking fears
She told me she's raised concerns about the practise of fracking in parliament many times but has been disappointed with the response.
Ms Lucas said: "There is a real sense that the government's got its fingers stuck very firmly in its ears and simply isn't listening to the concerns of local people."
She believes the government has underestimated the opposition to fracking which is why she said she was prepared to sit alongside people peacefully protesting - many of whom she said had never protested before.
At this year's conference, the leader of Brighton council Jason Kitcat will also give his assessment of how the Green-controlled authority is performing two years on.
You would think as a Green MP she would align herself with the council, and Ms Lucas does believe that now is a very difficult time to be in local government because of year-on-year cuts, but hasn't supported them on everything.
It's clear she didn't agree with the city's handling of the long-running dispute over bin collections, which saw rubbish piled high across the city streets for weeks on end.
'Will stand again'
She said: "Of course we are not always going to agree on everything.
"The bin strike was an example where there wasn't unanimity either within the Green group, within the local party [or] within the local city so of course there will be differences and that's not unusual.
"You would find that in any city or town around the country but I think overall they're doing the best they can in enormously difficult circumstances."
She might be the most recognisable Green party member in the country but no longer leads the party, so what does the future hold?
Ms Lucas said: "I'm certainly going to stand again and I hope very much that the people of Brighton Pavilion will judge me on my track record and vote for me again.
"There is a huge amount still to be done at Westminster on behalf of the people of Brighton, whether that's working to get more resources into affordable housing or getting a much more sensible green energy policy [and] creating more jobs."
Ms Lucas believes there is a huge amount to be done and said she has the energy needed to try to do that.
The Conservatives hold their conference in Manchester, Brighton will host the Labour Party conference whilst the Liberal Democrats head to Glasgow for their conference and UKIP will gather in Westminster.