Gang attacked police car days before £105,000 robbery, court told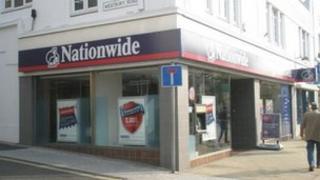 Two members of an armed gang attacked an unmarked police car with a hammer days before a £105,000 raid on a building society, a court has heard.
An officer was hit by flying glass when the windscreen was smashed after he tried to pull over a stolen BMW in Bracknell in 2011, the jury was told.
Four days later, two men in balaclavas raided a Nationwide branch in Fareham.
Four men deny charges of conspiracy to commit burglaries and robberies across Hampshire and Berkshire.
CCTV footage was shown in court of the £105,000 robbery in West Street on 13 December, 2011.
James Newton-Price, prosecuting, said a sledgehammer was held in a "threatening posture" towards G4S security staff, who locked themselves in the branch after being attacked.
Expensive cars
He added a metal cutter was used to gain access to the ATM before the gang made their escape in a stolen BMW.
An "identical" cutter and sledgehammer were later found in a hired garage at a Berkshire farm, jurors heard.
Prosecutors allege the gang carried out crimes at shops in Basingstoke and Reading, as well as raids in Farnborough, Havant and Fareham, between August 2011 and January 2012.
Stewart Last, 29, from Windsor, and Richard Loveridge, 28, and Andrew Smith, 27, both from Slough, are alleged to have carried out the robberies and burglaries.
A fourth man, 38-year-old Lee Fitzgerald, from Windsor, has been described as a facilitator - providing a base camp for the gang at the farm near Windsor.
The court was told a single fragment of glass which matched that from the police car was later found among debris recovered when a sledgehammer was seized by police at the farm.
Jurors were shown mobile phone records which showed the defendants were in the vicinity of the farm before and after, but had a "total shutdown" of outgoing calls while the Fareham robbery was carried out.
The men are alleged to have stolen £240,000 in cash from banks and building societies, expensive cars worth a total of £200,000 and £110,000 of cash and stock from shops and houses.
The trial at Winchester Crown Court is expected to last up to six weeks.