Unlimited use of Dartford Crossing for £20 per year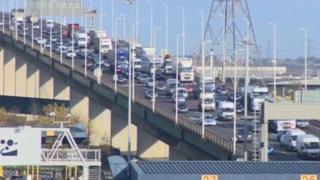 "Local people" will be allowed unlimited use of the Dartford Crossing for £20 per year, the transport secretary has announced.
Patrick McLoughlin MP said the scheme would particularly benefit people with small vans using the crossing.
It is an expansion of a current scheme which gives discounts to residents within the Dartford Borough Council and Thurrock Council boundaries.
Barriers are due to be removed from the crossing in October 2014.
Drivers will be recorded via number-plate recognition cameras and payment made by phone, text, online or in shops.
'Cheaper and easier'
In the current discount scheme local drivers are charged £10 per year for 50 free journeys and 20p per journey after that.
Mr McLoughlin said the new £20 scheme, which will be introduced in March 2014, will allow unlimited use of the Dartford to Thurrock crossing.
He said: "Local businessmen and women use the Dartford crossing regularly to make deliveries into Essex and Kent.
"They are the backbone of British industry and that is why I am keen to find new ways we can make their lives cheaper and easier."
The current cost for non-local drivers is £2 for cars and £2.50 for light-goods vehicles.