RAF Lyneham training college will cause 'minimal noise'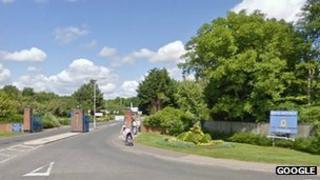 "Minimal noise" will be caused by the military training centre being built at the former RAF Lyneham airbase, the defence minister says.
Mark Francois was responding to a letter from North Wiltshire MP James Gray regarding residents concerns about potential disturbance.
Mr Francois said council communication over consultation on the plans "worked less well than they would have liked".
Mr Gray said his constituents would be reassured by the minister's words.
Plans for the £230m Defence College of Technical Training (DCTT) were submitted to the council in June.
It will offer training to all three services of the armed forces and create about 1,700 jobs.
'Like a washing machine'
Mr Gray said despite residents' concerns about noise, they were supportive of the college.
He said he had been assured the noise level would be "not much different to a domestic washing machine".
"Leaving aside occasional small-arms fire, we are talking about 50 to 60 decibels and that will be in the centre of the base, and mainly during normal working hours," Mr Gray said.
Mr Francois said in his letter to Mr Gray the "minimal noise" would be generated from training activity such as track and wheeled vehicle recovery and core military skills.
"However I would like to clarify that this training will not take place immediately adjacent to existing residential areas.
"During these events the period of noise is unlikely to generate more disturbance than when the site was used as an operational airfield."
Mr Francois said Wiltshire Council's communications strategy for the consultation on the plans was, for the smaller parish councils, via the Calne Area Board.
"My officials have advised me they will discuss future engagement with Wiltshire Council to ensure any further concerns are addressed," he said.
'Noise concerns'
Defence Infrastructure Organisation officials have since met with the council's director of economy and regeneration to discuss the concerns over noise from external training areas.
"As a result of this meeting, the concerns raised will be collated into a comprehensive 'frequently asked questions' and 'answers sheet' which will then be distributed to all of the local parish councils as well as the Lyneham and Calne Area boards, through Wiltshire Council," Mr Francois said.
In a statement, a Wiltshire Council spokeswoman said the authority had consulted with Lyneham, Bradenstoke, Dauntsey, Hilmarton and Bremhill parish councils, and had extended the consultation period.
"Concerns relating to noise have been put to the applicant. We are awaiting the response which we will publish online in due course" she said.
"We issued 1,100 neighbours letters notifying people of the planning application and we have also engaged with local parish councils through Royal Wootton Bassett and Cricklade Area Board."
RAF Lyneham closed last December as part of a strategic review of military bases by the Ministry of Defence.