Sunday Mirror confirms phone-hacking investigation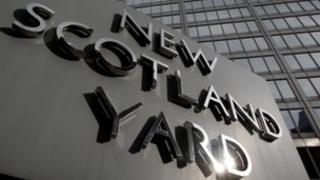 The publisher of the Sunday Mirror is under investigation over alleged phone hacking, its parent company has said.
Four Sunday Mirror journalists have been arrested to date over hacking, and Mirror Group Newspapers (MGN) itself is now being investigated.
Trinity Mirror said police were at a "very early stage" of examining if MGN was "criminally liable" for alleged crimes by former staff.
The group said it "does not accept wrongdoing within its business".
BBC home affairs correspondent Tom Symonds said MGN had joined News UK, which published the now defunct News of the World, under "corporate" investigation.
A Trinity Mirror spokeswoman said MGN "has been notified by the Metropolitan Police that they are at a very early stage in investigating whether MGN is criminally liable for the alleged unlawful conduct by previous employees in relation to phone hacking on the Sunday Mirror".
She said the group "takes these allegations seriously", adding: "It is too soon to know how these matters will progress and further updates will be made if there are any significant developments."
Voicemail messages
The primary focus of the Met's investigation has been alleged activity at the Sunday Mirror between 2003 and 2004.
Scotland Yard has said it will in due course contact people who officers believe have been victims of hacking.
One of the Sunday Mirror journalists arrested was former editor Tina Weaver, who worked at the paper between 2001 and 2012, and was detained in a dawn raid by the Met in March.
Former Sunday Mirror journalist Dan Evans, arrested in August 2011 during the first stage of the News of the World investigation, was charged this month with conspiracy to intercept mobile phone voicemail messages between 2003 and 2010.
Mr Evans worked at the Sunday Mirror until 2004, when he left to join the News of the World.
A Scotland Yard spokesman said: "As with any investigation we carry out, we do not identify suspects or anybody arrested or anybody we may we wish to speak to.
"That goes for corporations the same as it does for individuals."
Trinity Mirror's share price dropped by more than 6% after it announced the police investigation to the stock market earlier, although it later recovered.