Batheaston woman hit 'by ten vehicles' after crashing own car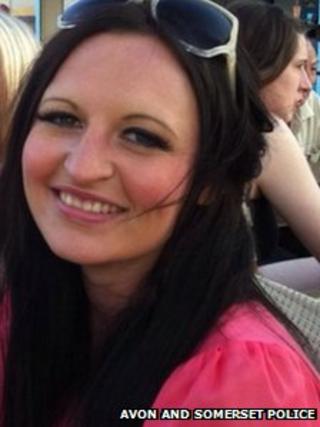 A woman who died when she was hit by up to ten vehicles had crashed her own car on the same motorway 30 minutes before, an inquest heard.
Rhiannon Priestley, 20, had suffered head injuries when her Volkswagen Polo left the M4, near Bristol, and flipped over before hitting a tree.
Disorientated, she then got out of her car and ran out into the carriageway to get help, Avon Coroners' Court heard.
Post-mortem tests showed she died from multiple injuries.
Avon coroner Maria Voisin was told Miss Priestley, from Batheaston, was hit by two cars, the impact of which knocked her over, before up to eight further vehicles ran over her.
Spoke to boyfriend
She concluded her death, on the 14 October last year at junction 19 of the M4, would be recorded as a road traffic collision.
There were no traces of alcohol found in her system but toxicology tests concluded she had "recent exposure" to cocaine, though an exact amount could not be established, the court heard.
Miss Priestley had spent the evening before the collision with friends in Bath, before leaving alone at 20:30, with her friends believing she was going to her parents' house in Batheaston.
CCTV images captured her on the M4, heading towards Bristol at around midnight, around the same time as phone records show she had a conversation with her boyfriend.
PC David Watson, a collision investigator at Avon and Somerset Police, told the coroner the conversation had been less than five minutes in length and Miss Priestley had not responded to repeated calls and text messages.
The inquest heard police had failed in their attempts to take a statement from her boyfriend.
'Immense pain'
Mr Watson said the location and damage of the car after it had careered off the motorway suggest it had struck a tree "with considerable force".
"Miss Priestley exited the car and went towards the main carriageway," he said. "It is likely she was looking to seek assistance from passing motorists but she may have been disorientated as she approached the edge of the motorway," he said.
The force of the second collision is thought to have pushed her onto the motorway slip road where up to eight other vehicles, unable to see her in the darkness, drove over her.
Will Priestley said the loss of his daughter was "unbearable" and that he would never understand her death.
"Fortunately for us, Rhiannon has three older sisters and our family remains strong. But all of us, together with her many friends who sincerely loved her, are still feeling immense pain," he added.