North East Labour MPs criticise A&E winter funds scheme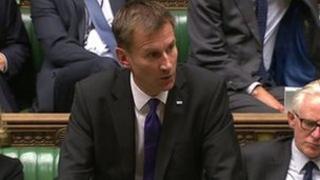 Labour MPs in the north-east of England have criticised the government after it emerged none of the extra £235m to be spent on hospitals this winter had been allocated to the region.
Newcastle North MP Catherine McKinnell said it was "deeply concerning".
But Health Secretary Jeremy Hunt said it was a sign hospitals in the region were performing "extremely well".
The cash is being split between accident and emergency wards across 53 trusts deemed to be most at risk.
NHS England, Monitor and the NHS Trust Development Authority selected the trusts on the basis of where the funding would have the "greatest impact and make a demonstrable difference to patients", Mr Hunt said.
'Genuinely puzzled'
Last winter, the Royal College of Nursing said North East hospitals were facing "unprecedented demand".
Patients were asked not to use accident and emergency at Middlesbrough's James Cook University Hospital if at all possible and operations were cancelled at South Tyneside Hospital because of demand.
Middlesbrough South and East Cleveland MP Tom Blenkinsop said: "In light of some of the incidents that took place last year at local hospitals, I am genuinely puzzled as to why our area is missing out on this funding."