Jean Halfpenny Orchid View care home death 'after neglect'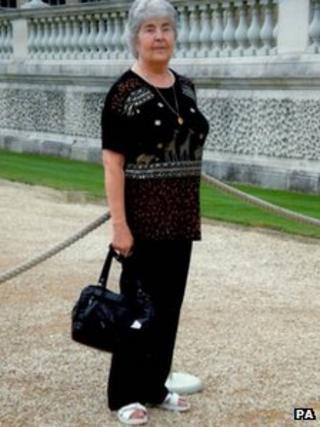 An elderly stroke victim who died after she was placed in a Sussex care home was left unattended and found by a social worker naked and crying in bed, an inquest has heard.
Jean Halfpenny's health deteriorated after she started living at Orchid View in Copthorne, the hearing was told.
Her daughter, Louise Halfpenny, said her mother was also given wrong levels of her prescribed medication.
The inquest is into the unexplained deaths of 19 residents at the home.
Orchid View, which has since closed and reopened under a new name and new management, was run by Southern Cross.
'Absent manager'
Ms Halfpenny said her 77-year-old mother was given three times more warfarin than her prescribed dose on regular occasions.
She described senior nurse Sadeo Sing as "obnoxious, rude and unprofessional".
She said: "He pulled my mother out of her chair to a standing position even though she had not been on her feet for six months. My mother was terrified."
On one occasion she arrived at 10:00 to find her mother in bed, hungry, thirsty and with the curtains drawn.
She also said a social worker who visited her mother in 2010 found her naked in bed, crying and complaining that she was cold.
Ms Halfpenny said she brought in food to supplement her mother's diet but was reprimanded.
And she said she saw staff use their own money to buy provisions to cook Christmas dinner.
'Severe staff shortages'
After she made complaints, she said the visiting policy changed and she was told she could not visit first thing in the morning and at mealtimes.
She described severe staff shortages and also said the care home manager Meera Reed was often not there and would be trying to run the home in her absence.
Ms Halfpenny said continued vascular problems with her mother's feet were not dealt with.
She and her sister decided not to move their mother because they did not want to cause her any more upheaval, the inquest heard.
Ms Halfpenny said her family chose the home, which cost more than £3,000 a month, because it was new, impressive, had state-of-the-art equipment, and her mother, who needed a high level of care after a severe stroke in 2009, would be near friends and family.
Her mother was admitted to East Surrey Hospital in Redhill twice in 2010, and then died in hospital in May from a stroke caused by a blood clot in her brain.
'Insulin not given'
Lindsey Ball, whose father Wilfred Gardner died aged 85 in May 2011, said she never saw a care plan for her father and on several occasions he was in pain but not given medication.
Mrs Ball said she was told he had to ask for medication, but she said to them: "He's got dementia, how would he know what to say?"
The inquest heard her father was diabetic and had to inject insulin up to three times a day but sometimes there were no strips to check his blood sugar levels.
"He was also not always given his insulin but I only found that out after reading paperwork I was sent," she said.
Another relative, Brian Donaghey, whose mother Maureen Donaghey died in July 2011, said as the number of residents increased staffing levels did not and they were less able to cope.
His 87-year-old mother had dementia but he felt many staff did not have the training to deal with this, he said.
At one stage he questioned whether she was receiving her correct medication.
And he said he had expressed concern over the way staff moved some residents and told the inquest his mother had suffered bruising as a result of being pulled up by her wrists.
The inquest was adjourned until Wednesday.