Killer 'strangled by other inmates at HMP Long Lartin'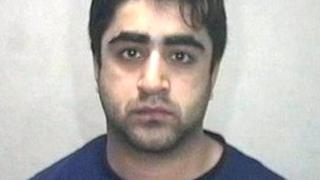 A convicted killer was tied up and strangled in his cell by two inmates who were also serving life sentences for murder, a court heard.
Gary Smith, 48, and Lee Newell, 44, deny murdering Subhan Anwar at HMP Long Lartin in Worcestershire in February.
Warwick Crown Court heard they made themselves hot chocolate after using tracksuit bottoms to throttle Anwar.
CCTV and DNA evidence proved the two men were involved in the killing, prosecutor Peter Grieves-Smith said.
One of the defendants was alleged to have informed prison security staff that Anwar, whose ankles were bound with tape, had been taken hostage because he was bored.
'Taken hostage'
Mr Grieves-Smith said the pair followed Anwar into his cell shortly before 18:00 GMT on 14 February.
The door of the cell was then closed, Mr Grieves-Smith said, and remained shut until prison officers gained access and found Anwar's body at about 20:20.
At about 18:40, a call was made from an intercom in the cell to the prison's security department, the court heard.
Mr Grieves-Smith said: "The caller did not identify himself but what he did say was that they had taken a hostage.
"He said words to the effect that he was bored and it was something to do. He then said 'I'm not joking, I think he is dead'."
Prison staff did not initially know whether the caller was joking, the court heard, and did not seek to force entry to Anwar's cell, instead talking through the door to those inside.
Metal earring
The jury was told that at 19:40, a warder looked through an eye-hole in the cell door and saw Anwar lying face down on his bed.
Mr Grieves-Smith said: "What was found around his neck was a ligature, a pair of tracksuit bottoms which had been wrapped around his neck, and the ends of the legs pulled until he died."
Smith and Newell were found in possession of property belonging to Anwar.
The jury was told Newell was convicted of murder in 1989. He denies stealing a watch, prayer beads and a metal earring belonging to Anwar.
Smith, who the jury heard was convicted of murder in 1999, has admitted a charge of theft.
Anwar was 24 when he died and had received compensation after a previous incident in which he was assaulted by inmates.
The court heard Anwar was previously held at Doncaster prison after being sentenced to serve at least 23 years at Bradford Crown Court when aged 21.
The trial continues.