Badger cull 'protesters' arrested in Gloucestershire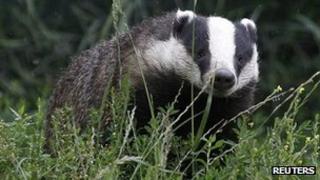 Four people believed to have been taking part in anti-badger cull protests have been arrested in Gloucestershire.
The three women and a man were held on suspicion of theft and aggravated trespass.
One of the women was also arrested on suspicion of possession of an offensive weapon, which police said was a knife.
About 5,000 badgers are to be shot in a six week-period in Gloucestershire and Somerset in a bid to curb bovine TB.
All four, aged between 23 and 46 and from Evesham, Cheltenham, Gloucester and Mansfield, were bailed until November.
The pilot scheme began in Somerset but no-one involved will say how many badgers have been shot or killed so far.
A Gloucestershire Police spokeswoman would not give any further details of the circumstances of the arrests but said the suspects were held as "part of the policing of the badger cull".
The Department for Environment, Food and Rural Affairs wants to see if culling can be done effectively, safely and humanely.
There are plans to roll out the scheme more widely in areas which are hotspots for TB in cattle if it is deemed successful.
Those against the cull argue shooting badgers is "inhumane" and will not be effective.