Bishop of Ripon and Leeds announces retirement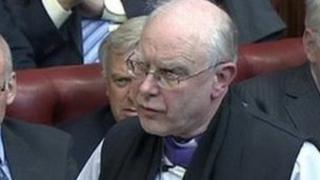 The Bishop of Ripon and Leeds has announced in a letter to clergy he is to retire in January.
Bishop John Packer, 66, has been in the role since the diocese was created 13 years ago.
He said it had been an "immense privilege" to serve the area.
Bishop James Bell, the Bishop of Knaresborough, will have temporary responsibility for the diocese before it becomes part of a merged Diocese of West Yorkshire and the Dales in April.
In the letter to clergy, Bishop Packer wrote: "It has been an immense privilege to serve in this diocese for the past 13 years, to share mission and ministry with you, and to experience so many acts of generosity as well as of challenge."
The Anglican diocese of Ripon and Leeds runs from North Yorkshire to West Yorkshire, with its cathedral in the city of Ripon.
It is to merge with the dioceses of Bradford and Wakefield next Easter.
The newly-created diocese is to be led by a new post of Bishop of Leeds.