M25 and M26 closures for widening scheme work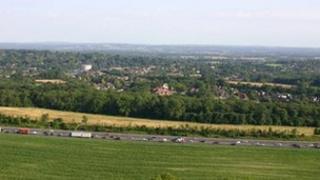 Two motorways in Kent and Surrey are to be shut in a series of overnight closures as part of a widening scheme.
The M25 and M26 will be closed on selected dates later this month while gantries and signs are installed, the Highways Agency said.
Drivers on the M25 will be able to use the hard shoulder for a 15-mile stretch through Kent and Surrey.
The Highways Agency said the £250m scheme would provide much-needed extra capacity between Sevenoaks and Redhill.
The agency said work on the new concrete central reservation had been completed.
The road layout on the clockwise carriageway of the M25 at junction five will be modified between 21 and 26 September.
The London-bound M26 between the M20 and M25 (junction five) will be closed overnight to allow the work to take place.
Heavy congestion
The anticlockwise carriageway of the M25 is due to be closed between junctions six and five on 21 and 28 September, 5 October and 16, 23 and 30 November, the Highways Agency said.
Diversions will be put in place.
The current three-lane section between junctions five and seven is used by 146,000 drivers every day, with heavy congestion during rush hours.
Managed motorways have been introduced on the M42 and M6 in the Birmingham area, with other schemes under way on the M4 and M5.
The AA has previously warned that replacing the hard shoulder of the M25 between Kent and Surrey with an extra lane could put drivers at risk.
The motoring organisation said drivers who broke down would block the lane and could be in danger if their lights fail at night.