Research project aims to get older people cycling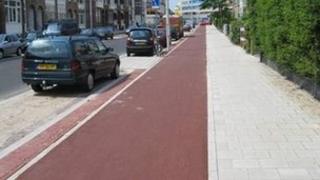 Academics have been awarded £1.2m to come up with ideas to get more older people in the UK back on their bikes.
Cycling accounts for 1% of journeys in the UK for over-65s. In the Netherlands the figure is 23% and in Germany, 9%, according to Reading University.
The town is part of a three-year project, along with Oxford, Southampton and Bristol.
The teams will see if new technology, like electric bikes, or more cycle lanes would have an impact.
Reading University said recent studies had shown that regular physical exercise was one of the key factors in maintaining, or even improving, cognitive function in older age.
The scheme is being funded from a £1.2m award from three research councils.
Researchers hope their findings will be adopted by policymakers in the future.