Young farmers look for pastures new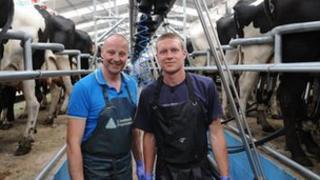 Richard Dayment taught me how to milk cows in a beautiful corner of Cumbria.
It was fascinating helping Richard out. The cows all wandered in at their allotted time ready to unburden themselves after a day's grazing.
I hadn't realised until he pointed it out, but the cows have their own pecking order as to who gets into the stalls first.
To all intents and purposes this was a production line.
The ultra modern dairy shed churns out thousands of pints of milk for local cheese production each day.
With me grappling with the suction cups the day's output might have been down a bit - or at least slower.
There's a real knack of slipping the device on and off those teats without disturbing the meadow lady above who's quite content to be milked while she stuffs her face on treats in the trough in front of her.
I spot a cow with a colourful ring with spikes on it. Surely a nose ring belongs on a bull?
An inspection of the other end confirms it is indeed a cow. It turns out this one had never outgrown her childhood.
She had a compulsion to suckle on any available udder - the spiked ring ensured any attempt to latch on to an udder would result in a sharp kick in the face.
It seemed an age away from my childhood days when I spent summers with my older sister in a tiny rural village in France.
Down on the farm
I would be despatched to the farm at the edge of the village to get our daily milk. I had what looked like a mini milk churn.
In a barn a mere handful of cows would be donating their milk via a more Heath Robinson style suction system into large glass cylinders. As it squirted in, it frothed up.
The farmer would fill my churn and back at home it was still warm and unpasteurised.
Though no doubt against all health and safety rules today it did taste lovely.
I got a slightly more disturbing view of the food chain in the same village. On the green were rabbit hutches and each day I'd feed them.
One day one of the fluffy animals was missing. The oldest resident advised me without any concern that it had tasted very nice at dinner.
That may have put paid to any chance of me becoming a farmer.
Fresh pastures
Having seen Richard at work in the great outdoors of Cumbria I wonder if I hadn't missed a great opportunity because of that unfortunate incident when I was just eight.
But perhaps farming wouldn't have been the best move.
Richard has abandoned idyllic Cumbria to further his career.
It wasn't my slapdash amateur technique of putting those four suction cups onto the udders that sent him packing, but the lack of opportunities here in the UK.
With little chance of getting his own place he's gone to New Zealand.
He, like many young farmers, says he can't get onto the farming ladder because of a blockage in the system.
Critics say a change to subsidy rules in 2003 is now bearing fruit. Older farmers who might have retired can stay on their land without having to do much actual farming.
Those wanting to make a living out of the countryside are finding it more and more difficult to find a farm of their own or even a tenancy.
The government did look into this in the summer but the report didn't offer much hope to the likes of Richard.
He may eventually return. If he does, I suspect he won't be hiring me anytime soon.
You can see my report on young farmers on Inside Out - North East & Cumbria on BBC One at 19:30 BST, Monday 9 September 2013.
Feel free to leave your comments on the issue here on the blog.