Seasonal change shows party conferences autumn colours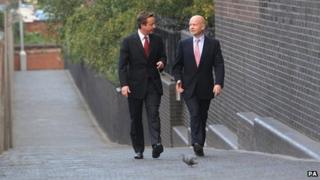 It's getting on for 20 years since Jeremy Paxman vented his spleen in his own inimitable style against the party conferences "stage-managed" events, which he said, required the media pack to spend weeks on end "traipsing around from one out-of-season seaside resort to another".
How things have changed since then.
For a start the major parliamentary parties have decided to relocate their conferences to where the people are.
Birmingham, like Manchester and Liverpool, is now firmly established on that party conference trail, and this year sees Glasgow joining the club by hosting the Liberal Democrats' main autumn get-together next week.
Indeed, Birmingham has become so accustomed to its role as a conference city that people here are genuinely taken aback when you tell them that for the first time in four years the city will not be hosting any of the parties this autumn.
Politics in the cities
Conspicuous by their absence from our autumn roll call are Labour who have held a wide variety of national events in the city, including their last general election campaign launch and several spring conferences; but not, as yet, their main event.
This month Labour return to their traditional coastal path in Brighton. The Greens are also there this weekend.
But there is increasing optimism hereabouts that Birmingham may at last be about to feature in the Labour party's future travel arrangements - watch this space.
This year's party political "no-show" is not great news for the city's hoteliers, restaurateurs and licensees. Marketing Birmingham, who sell the city as a convention destination, estimate that each party conference is worth more than £30m to the local economy.
So it's not just us politics junkies who are missing our annual conference season fix.
Nevertheless, the general exodus from the seaside resorts is not the only respect in which the conferences have changed since Jeremy Paxman's broadside all those years ago.
Birmingham's 'Gap Year'
But far from becoming less staged-managed, the signs are that they may be evolving into something more akin to marketing opportunities and team bonding exercises; no longer the forums for dynamic or unpredictable political debate, red in tooth and claw.
I have even seen suggestions that the party rank and file may soon be outnumbered by the lobbyists, commercial exhibitors and, inevitably, us media types.
And yet most broadcasting outlets, including the BBC, have been down-sizing their party conference operations compared with the days when they really did have the look of that apocryphal travelling circus, on tour one week in Bournemouth, in Blackpool the next and finally south again to Brighton.
It was no way to run a railroad and it was certainly a very expensive way to run a broadcasting business.
But this is not just about saving money.
As major news events, the conferences are generally not exactly what they were. My political memory goes back far enough to recall some electrifying events: the lady was not for turning; Clause Four, suddenly, was a thing of the past for the Labour Party.
So 2013 may not be the worst conference season for Birmingham to sit this one out, in the sure and certain knowledge that NEXT year, with just over six months to go to the general election, we'll be up to maximum voltage again, with the Conservatives back here once more.
But we're getting ahead of ourselves.
As the four main parties prepare for this year's conferences, I will be asking each of their leaders the questions that matter most to us here in the Midlands.
Beginning with the Liberal Democrats. My interview with their leader Nick Clegg will be screened on the first in the new series of Sunday Politics Midlands, returning after its summer break.
I hope you will join us at the later time of 13:30 on BBC One on Sunday following coverage of the Great North Run.