RideLondon: 80,000 apply for London-Surrey cycle race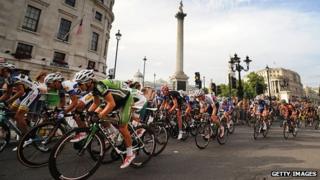 More than 80,000 people have applied to take part in next year's 100-mile cycle challenge through London and Surrey.
About 16,500 people participated in the inaugural race in August, which was part of the UK's largest ever mass participation cycling event.
The organisers of the RideLondon event said they closed the ballot for the 2014 race after registrations reached the 80,000 mark.
Applicants will find out whether they have a place in February.
London Mayor Boris Johnson said next year's event promised to be "bigger and better" and would feature an "eclectic cast of cyclists".
"London will once again be transformed as tens of thousands of people test their two-wheeled mettle on the capital's streets," he said.
'Cycling celebration'
Surrey County Council leader David Hodge added: "It is fantastic that so many people have signed up so quickly to cycle once again through Surrey's glorious countryside.
"We look forward to welcoming thousands of people to next year's celebration of pedal power, and this underlines Surrey's prime position as a top cycling destination."
Starting in the Queen Elizabeth Olympic Park, the ride passes many of London's iconic landmarks, before heading through Richmond Park and out into the Surrey Hills.
It also includes a steep climb up Box Hill and Leith Hill before it returns to finish at The Mall in central London.
Some Surrey residents complained the event left them feeling trapped in their homes but Surrey County Council said everything had been done to minimise disruption.