Duchess of Cambridge painter Paul Emsley battled doubts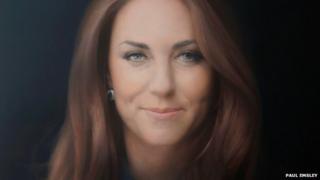 Painting the Duchess of Cambridge has "significantly" changed the life of a Wiltshire-based artist.
However Paul Emsley, from Bradford-on-Avon, has revealed he faced a period of doubt following a mixed reaction when the portrait was unveiled in January.
The first official painting of Kate was commissioned by the National Portrait Gallery in London, where it has been hanging for seven months.
Mr Emsley said he had received hundreds of messages of support from the public.
'Pretty ordinary'
Mr Emsley was given two sittings with Kate - one at Kensington Palace and the second at his home studio.
He said: "I try to lead a quiet life in my home and studio, however things have certainly changed significantly since the unveiling.
"There is now much more correspondence to answer, interviews to do and invitations to various functions."
His other subjects have included Nelson Mandela and author V S Naipaul, and in 2007 he won the BP Portrait Award for his depiction of fellow artist, Michael Simpson.
Some critics were less than flattering with their comments on the Duchess's portrait, with Waldemar Januszczak of the Sunday Times saying he was "disappointed" and that she had been "let down" by "yet another pretty ordinary painting of a royal".
But Alastair Adams, president of the Royal Society of Portrait Painters, said it was "quite natural, open, and very pure".
Since its unveiling, Mr Emsley said it had proved to be very popular, adding: "It has drawn large numbers of viewers and had to be moved at one stage to accommodate them.
"I have received hundreds of enthusiastic messages to which I am still replying."
'Irrational criticism'
On reflection he said it was a "difficult commission with enormous pressure" but he would not change anything about it.
"Every artist knows that once a work is completed there follows a period of doubt," he added.
"The fuss that followed the unveiling added to that for a time. Since then I have seen the portrait again once or twice and I am happy with it.
"The most difficult thing has been to reconcile the media criticism with the very positive response from many who have seen it.
"Naturally there will be many who don't like my style. I accept this and would have welcomed a serious discussion but the extreme nature of much of the criticism seemed hysterical and irrational.
"Much of it was based upon viewing a small image on the internet. I hope that people will go to see the actual portrait, those who do often find it a positive experience."
The 38in (95cm) by 45in (110cm) painting has now been lent to the Holburne Museum in Bath where it will remain until 6 November. This is the only planned additional display this year.
Alexander Sturgis, director of the Holburne said: "There couldn't be a more fitting place to show this important portrait - a few miles from where the picture was painted and in a room that sits between our great collection of 18th Century British portraits and our stunning exhibition of paintings from the Royal Collection."