Unaffordable house prices keep more adults at home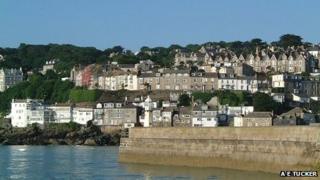 A lack of affordable housing is "increasing the financial and emotional burden" on parents, the National Housing Federation (NHF) has said.
The South West has the worst housing affordability in the country outside London and the South East.
The average cost of home is about £215,000 in Cornwall and about £225,000 in Devon.
The (NHF) said about 25% parents in the South West now had at least one adult "child" living at home.
In Cornwall, houses are about 10 times the cost of the average wage, which, according to the Office for National Statistics, was just under £21,000 last year.
London money
Sarah Carr, NHF manager in the South West, said so-called "empty-nest syndrome" was becoming a thing of the past.
"Rather than waving their children off as they grow up and move out, parents are stuck with kids in their 30s still living at home," she said.
Andrew Mitchell, 47, a former economic portfolio holder for Cornwall Council, still lives in his childhood home in St Ives.
Although he has worked most of his life, he now divides his time between working as a local councillor and caring for his grandmother.
He said the unaffordable cost of housing meant his only "realistic expectation" of buying his own home would be when he inherits.
"I think is probably more common than people actually realise," he said.
Ms Carr said Mr Mitchell was a "prime example" and illustrated how much of an issue affordability had become and why more homes - at the right price and in the right areas - had to be developed in Devon and Cornwall.
Professor Peter Gripaios, Emeritus Professor of Economics at Plymouth University, said affordability could get worse as house prices start to rise in the region.
"Prices really went up from 1999 to 2007 then they levelled off a bit with the recession, but it now looks as if they're going up again," he said.
"There's a very big affordability problem in the South West - in fact house prices to earnings are some of the highest in the country and only lag behind parts of London and the South East."
Prof Gripaios said Devon and Cornwall suffered more from affordability because of "London money" coming into the South West to buy second homes and retirement properties.
While movement of people from the South East undoubtedly brought money into the local economy, the benefits were, in his opinion, limited to particular areas and did not extend to the whole region.
"Local people can't afford to live where they want to live and have to move away from family and friends," he added.