Swimmer Sara Zaltash sings while crossing Solent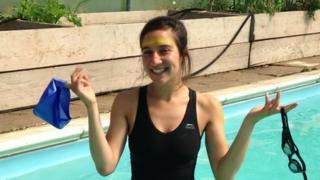 A performance artist has swum across the Solent while simultaneously singing a 100-verse ballad.
Sara Zaltash, from Reading, performed breaststroke and had spent weeks training to sing underwater without swallowing water.
She crossed the 1.3 mile (2km) stretch of water from Hampshire to the Isle of Wight in 45 minutes on Thursday.
The 28-year-old filmed the challenge to show at arts festivals and is also raising money for cancer research.
The idea to swim while singing came when she read about the annual sponsored swim organised by Bestival, a music festival on the island.
She joined the group of fundraisers swimming from Hurst Castle in Hampshire to Colwell Bay on the Isle of Wight.
Ms Zaltash, who described the crossing as "salty and intense", added: "I sang my song the whole way across and reached the shore on the verse that tells me what my fate will be at Bestival and beyond.
"All of my artwork is song-based and singing in unusual situations is part of them."
She has so far raised £500 for Cancer Research UK after losing an aunt and friends to the illness.