Yorkshire police fears over Tour de France costs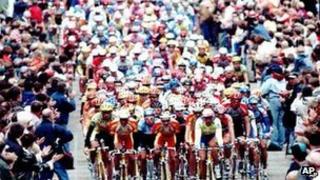 Yorkshire's hosting of the start of the Tour de France will put police forces in the region under financial pressure, it has been claimed.
Yorkshire beat off rival bids from Florence and Edinburgh to host the event's Grand Depart in July 2014.
North Yorkshire's police and crime commissioner said the six-figure sum allocated for policing was not adequate and could leave her with a £1m bill.
Event co-ordinator TDF 2014 Ltd said it was in talks with forces.
Its chairman, Sir Rodney Walker, said: "There is a line in the budget for policing costs. We will continue to work closely with the police to ensure the Grand Départ is successful and Tdf2014 Ltd are already planning to meet the police commissioners to discuss in greater detail the requirements and costings."
Highest bill
The first stage of the event will take riders through the Yorkshire Dales to Harrogate, while day two will start in York and end in Sheffield.
Julia Mulligan, police and crime commissioner for North Yorkshire, said she had had concerns "right from the get go" about the "relatively modest amount" - which has not been disclosed - that had been allocated for policing costs.
She said: "In North Yorkshire we have got over 60% of the route. We are the smallest force and we've got the highest bill so it's really important that I do everything that I can to try and secure as much funding as I can to make this a fantastic event.
"We have a bill of at least £500,000, possibly more, up to £1m, and that's a very significant amount for a small police force like North Yorkshire."
The issue was raised in the House of Commons earlier by Colne Valley Conservative MP Jason McCartney, who asked where funding for policing would be coming from.
Sports Minister Hugh Robertson told him that security costs would have to be met from the £11m being raised for the event in Yorkshire, not from the £10m being contributed by the government.
The minister said: "It's pretty extraordinary, if there's controversy about this now... it's pretty extraordinary to have bid for an event without working out how the security is going to be paid for."