Gareth Thursby and Thomas Wroe unlawfully killed in Helmand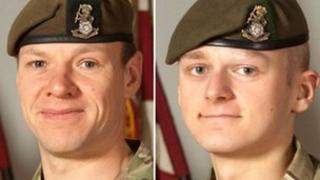 Two British soldiers gunned down by a rogue Afghan policeman inside their checkpoint were unlawfully killed, a coroner has ruled.
The policeman shot Sgt Gareth Thursby, 29, and Pte Thomas Wroe, 18, from 3rd Battalion, The Yorkshire Regiment, in Helmand Province on 15 September 2012.
An inquest into their deaths, in Oxford, heard the officer opened fire on the soldiers at an army checkpoint.
The Afghan officer, known as Gul Agha, was himself killed in return fire.
Both Sgt Thursby and Pte Wroe were left seriously injured and later died.
Another soldier, Pte Augustine Forkyo, was also injured and is still recovering, the inquest heard.
Recording a verdict of unlawful killing for both men, Oxfordshire Assistant Coroner Alison Thompson said although there was no apparent motive for the "appalling attack", there was no established link between the gunman and the insurgency in Afghanistan.
Sgt Thursby, a father of two from Skipton, North Yorkshire, was promoted to sergeant in 2010, and had previously served in Kosovo and Iraq.
Pte Wroe, who was from Holmfirth, West Yorkshire, joined the Army in 2010, and was deployed to Afghanistan in July 2012.
Bullets hit wall
Lt Callum Cameron, platoon commander of 3 Platoon, Alma Company, had earlier told the inquest the Afghan policeman who opened fire that day was based at a nearby checkpoint but was well known in the area.
It was originally thought an Afghan policeman might have accidentally fired his weapon, said Lt Cameron.
However, when bullets started hitting the checkpoint's wall, it became clear it was an "attack", he said.
Walking out of the checkpoint, he saw Pte Wroe and Sgt Thursby had been injured, along with a third soldier, while Gul Agha lay on the ground still moving and with a weapon next to him.
Lt Cameron told the inquest he ordered soldiers who were covering the man to move away, then told one to "re-engage".
The soldier fired four shots at the man before his gun jammed, then another took over, firing two more shots, leaving him lying motionless on the ground.
Lt Cameron admitted it would have been unusual for the Afghan policeman to be allowed to carry his weapon in that area of the checkpoint.
He said he could only theorise that "highly-experienced" Sgt Thursby had made a judgement to allow Gul Agha to do so.
"He was very well known, very identifiable. He was a real champion of the partnership," said Lt Cameron.
It was a shock that the man had turned on his coalition partners, said Lt Cameron, and he could not explain what might have caused it.
L/Cpl Ian Young told the hearing he had trained Gul Agha earlier in the tour.
He said the man used to bring his children to Checkpoint Shakar, where he was based, adding: "He just seemed like an average family man really, happy all the time."
He had shown no signs of disillusionment or anything against coalition personnel, said L/Cpl Young.
Recording her verdict of unlawful killing, Ms Thompson said: "It is often difficult if not impossible to establish motivation in this sort of case, making it especially hard for families to come to terms with the death."