Universal Builders Supply fined for crush death safety failings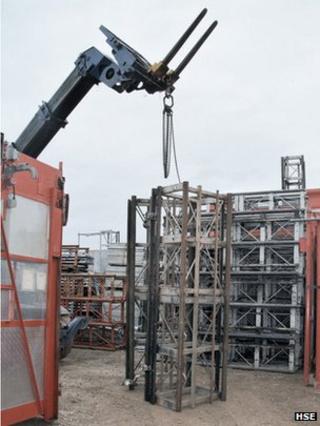 A construction firm has been fined £125,000 after safety failings led to a worker being crushed to death under a falling metal mast.
Nigel Sewell, 57, from St Neots, Cambridgeshire, died while he was assembling a tri-mast with three men in Kneesworth, Hertfordshire, in 2011.
Universal Builders Supply Limited was found guilty of three safety breaches after a Peterborough Crown Court trial.
The firm said it "sincerely regrets" the death of its employee.
The Health and Safety Executive (HSE) said the construction engineer was assembling a tri-mast, a metal structure used to install hoists on tall structures, for the Thames Water Lee Tunnel project.
Mr Sewell was working at the Universal Builders Supply Limited (UBS) premises at Wireless Station Park when equipment fell on him and he was crushed.
HSE investigators found that there was "inadequate planning and supervision of the work" and there had been "no separation of vehicles from the assembly process".
As well as the fine, the court ordered UBS, which helped construct Canary Wharf, to pay £40,000 costs and a victim surcharge of £15.
HSE Inspector Graham Tompkins said: "The loss of Mr Sewell was devastating for his family and friends and is made even more incomprehensible by the fact that it was completely avoidable."
UBS, of Rifle Street, London, said it "sincerely regrets the death of Nigel Sewell" and apologised for the "mistakes" that led to his death.