Cancer fund father Kevin Wright jailed for theft and fraud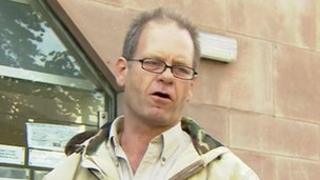 A man who stole from children's cancer charities, including one to help his son, has been jailed for five years.
Kevin Wright, 50, who lived in Devon before moving to Staffordshire, was found guilty of theft and fraud at Nottingham Crown Court last month.
Prosecutors said Wright took £171,500 to fund his "interests, investments and personal lifestyle" including an investment in a village pub.
The judge told him he was dishonest, selfish and arrogant.
'Not helping others'
Wright was found guilty of 10 counts of theft and two of fraud at an earlier hearing.
He set up a number of successful appeals for sick children, raising hundreds of thousands of pounds between 2005 and 2008.
These included the Bobby Wright Cancer Fighting Fund and a company called Bobby's Fund, set up for his son, who, in April 2005, at three-years-old, was diagnosed with the rare form of cancer, neuroblastoma.
Wright, who lived in Exeter before moving to Quince in Amington, claimed he wanted to take Bobby to America for treatment and supplement his NHS treatment with holistic and natural therapies.
Wright also stole cash and credit balances from fundraising campaigns he set up to raise money for cancer treatment for two three year olds, Callum Kaye, from Swindon and Armani Mohammad.
He said he had wanted to help others in a similar situation after Bobby, who is now aged 11 and cancer-free, responded well to a variety of therapies.
He sold raffle tickets through a call centre in his Devon home, had collection boxes and allowed donations through websites, but money went into Wright's personal bank account, the court heard.
The money stolen included donations of £60,000 made by charities Caudwell Children and Janet Nash.
He gave £20,000 to a friend who ran a used-car business and put £60,000 into Premium Bonds.
Another £60,000 was used to buy a restaurant in Exeter and invest in a pub in Devon.
Speaking before he was sentenced, Wright said all of the money raised "was spent on other children for the same purposes as what it was spent on my son".
He said: "It was spent in the spirit in which it was raised."
The judge, Gregory Dickinson, said Wright "abused the generosity of the public".
"Your actions risked damaging the confidence in the system of charitable giving," he said.
Wright was originally charged with 20 counts but prosecutors dropped seven charges.
He was found not guilty of another count of fraud.
Wright's 43-year-old wife, Jacqueline, was charged with one count of converting criminal property but it was dismissed.