Pay and prices to dominate party conference agenda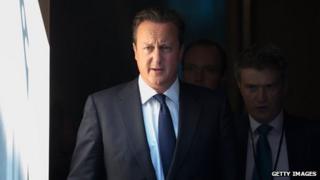 With the party conference season upon us, the economy is emerging centre stage as the battle ground. Health, education, Syria and the EU will get a look in too.
But on political priorities, as Bill Clinton famously told his campaign staff: "It's the economy, stupid."
The prime minister sounds pretty bullish these days on his economic message. He has been talking up an extra 1.3 million private sector jobs created under his watch.
But the TUC has already done some ground work for Labour's attack. It has been targeting the pressure on pay packets and its figures for the East Midlands are revealing.
According to the TUC, workers in the region have seen a pay loss of £25 a week over the last five years.
Wages 'frozen or cut'
At 5.7%, the East Midlands figure is just below the UK average for squeezed wages. But surprisingly, pay packets in Leicester have had the biggest squeeze. Hourly pay fell by almost 10.5%. That is the equivalent of a £42.13 a week.
Increases in gas, electricity, petrol and the weekly shop have all had an impact on our living standards. But why should Leicester feel the pinch?
Liz Kendall, one of the city's Labour MPs, told me: "There are real issues in Leicester in terms of people's wages being frozen or cut."
She also blamed cuts in family tax credit and other welfare benefits, and rising housing costs.
"Employers are trying to protect jobs where they can. But we need to improve skills and job training. I also want to see a much stronger campaign for a living wage.
"Councils like Leicester are paying the living wage, other organisations should follow suit," added the Leicester West MP.
We're going to hear more about the campaign for a so-called living wage. Currently, it's set at £7.45 an hour. That's £1.26 higher than the government's national minimum wage.
The living wage idea originated from the Centre for Research in Social Policy at Loughborough University. It's worked out from a broader range of everyday costs.
The National Minimum Wage goes up next in October to £6.31 an hour, an increase of 12p. For workers aged between 18 and 20, the rate will be £5.03, an increase of 5p.
It is not overly generous, but this is where the government play their income tax trump card.
Nicky Morgan, Loughborough's Conservative MP, told me: "Across the East Midlands, there are 167,000 people no longer paying income tax following April's changes by the chancellor."
"There are also 1.7 million people paying less income tax and that feeds through to people's pockets.
'Tough times'
"It's one of the big things that's made a big impact on disposal income and that will add to confidence about the economy and the high street."
One of Nottinghamshire's Labour MPs attempted to corner the prime minister on squeezed pay packets.
Described as "exotic fruit" by the Speaker of the Commons, John Mann lobbed his equivalent of a squashed tomato during questions to the PM.
Mann: "Is it not the case that real wages have fallen by £1,500 a year since he became prime minister?"
David Cameron replied: "Of course, we live in tough times because of the incredible mess we've had to clear up from the party opposite.
"For Labour to complain about the economy and wages is like an arsonist complaining to the fire brigade."
On pay and prices, expect the political heat to be turned up in those party conference speeches.