Allotments' growing appeal to younger generation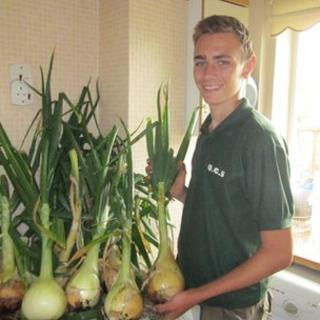 They were once the preserve of old men in sheds, but allotments are now appealing to a wider age group as thousands of people in England wait for plots.
In Liverpool, the first new allotments are being created since World War II. More than 11 acres of allotment land will be developed over the next five years on a former allotment site in Long Lane.
Councillor Steve Munby said: "This will probably not cost us money - it will save us money.
"An overgrown and disused site is being put to a very good use and new allotments can be created in a neighbourhood where they are wanted.
"This is an area where there is a high demand for community allotments and it is a site where there has been some anti-social behaviour which a well-regarded community facility can help prevent."
Initially, five acres of land at Park Road, Dingle, has been identified as the new allotment site. Funding of £75,000 has been ring-fenced to support allotments in the city.
"We have turned more than 100 sites throughout the city into community gardens, allotments and other facilities and they are really appreciated," said Mr Munby.
Research from nearby West Kirby Transition Town in conjunction with the National Allotment Society shows 78,827 people in English local authorities are on allotment waiting lists.
Jamie Butterworth, 18, from Wakefield, is not your typical allotment holder.
He discovered his passion for gardening at the age of nine. Next week, he leaves his home for Surrey, where he is one of eight people chosen by the Royal Horticultural Society to study at Wisley for a diploma in practical horticulture.
'Like the Somme'
"I was about nine years old and no-one else in my family was remotely into gardening," said Mr Butterworth.
"I came across Gardener's World on the television and was intrigued by Monty Don growing cornflowers from a packet of seeds. I started off growing a few plants."
At 12, he persuaded his grandfather to let him use a corner of his garden for raised beds.
"It was a bit like the Somme, to be honest," he said. "There was mud everywhere. I love experimenting with different things."
He added: "I went to see my careers adviser at school and they tried to put me off gardening as a career.
"Their exact words were: 'You're a bright lad, Jamie, you don't want to go into gardening, you want to do your A levels.'"
'Dig for victory'
He was fourth in the BBC Young Gardener of the Year competition in 2011, "the best experience of my life."
Earlier this year, the agriculture minister David Heath urged the public "to dig for victory" to combat rising supermarket food prices.
Britain imports 40% of all food consumed and the proportion is rising.
Rachel Hemmings, who has an allotment in Nottingham, recalls that she was the first woman 10 years ago to have a plot on her corridor.
Now there are six women and it has become a place for families, young people and couples.
She co-ordinates the Arkwright Community Garden at the Meadows, part of the RHS It's Your Neighbourhood campaign.
It has transformed a scrappy acre of land that used to be known locally as "dog poo alley".
She said: "I've been here eight years and have seen the crops rotate a number of times.
"It's a place where children can play safely and learn about where their food comes from."
'Very rewarding'
They respond to requests from the community - growing fenugreek, callaloo spinach, kiwis, apricots, peaches and many varieties of chilli.
Food blogger Naomi Schilling, who lives in Finsbury Park, London, has been helping to promote vegetable-growing in front gardens.
"We found that growing vegetables helps bring communities together." A neighbour's corner garden has been turned into an allotment.
She grows sorrel and Jerusalem artichokes, and Japanese wineberries. "It's very rewarding picking your own lettuces in the garden for dinner or your own fruit," she said.
"In a way it's like harking back to another, calmer time and gardening slows you down as you spend time weeding, giving you chance to talk to other people.
"When I'm gardening in the front, people always want to know what I'm growing."