Students' sex trafficking video used by police forces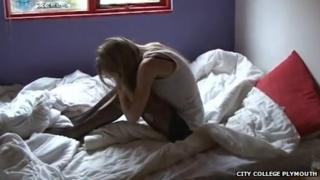 A film by three students in Plymouth is being used nationally to teach people about child sexual exploitation.
Millie Steel, Chloe Adams and Jessica Linden from City College made the film for the NHS last year - initially for South West hospitals and schools.
It was seen online by an Essex police officer who asked the college if it could be used for staff training.
Kent Police and the Church of England's Diocese of Chelmsford have also started using the film.
Student actors were used in the film, which is the fictional story of "Anna" a 13-year-old sex trafficking victim, who is kidnapped and forced into prostitution after being groomed online.
Interlaced throughout the nine-minute film are "real" interviews with a senior police officer, consultant paediatrician and a child psychiatrist.
Student responsibility
PC Colin Day from Essex Police said that when he spotted the film he realised it would enhance staff training.
"We have recently finalised our version and it will be rolling out to 6,000 staff and police officers," he said.
A further 6,000 officers and staff at Kent Police - which collaborates with Essex, will also be shown the film.
An adapted version will also be used to train about 7,000 Diocese of Chelmsford clergy and volunteers in Essex, as well as parts of north and east London.
One of the film-makers - 20-year-old Millie Steel, from Plymouth - said she was "shocked" by research which showed her the extent of the issue.
"It was amazing to be given the opportunity and great fun to make the video, but to know that it might help people stop it is really good," she added.
Rob Chadwick, media director at City College Plymouth, said it was a big responsibility for his students to take on.
"I have to say I was really impressed with what they did. They delivered a fantastic product, which is now being used as a real educational tool," he added.
The film was funded by the Learning and Skills Improvement Service and the Skills Funding Agency Equality, Diversity and Inclusion Partnership.