Stanwell 'not yet awake' to Heathrow plans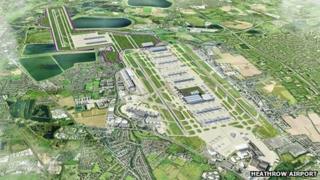 Residents of a Surrey village have "not yet woken up" to the threat posed by proposals to expand Heathrow airport, a county councillor has said.
Stanwell Moor is one of three possible sites for a new runway submitted to the Airports Commission, which is looking at airport capacity in the South East.
"I don't think Heathrow is the right place to expand - it is too urban," said Councillor Robert Evans.
An airport spokesman admitted there was "uncertainty" surrounding the plans.
A fifth of local people work at the airport, he confirmed.
'Wiped off map'
A public meeting is being held in Stanwell Moor later to inform residents about the proposals.
Heathrow has put forward a third runway either to the north, north-west, or the south-west of the existing airport.
The south-west option, at Stanwell Moor, is one of its two preferred sites.
"The people of Stanwell Moor know that they are fully under threat and that all the homes, the pub, the community, everything in Stanwell Moor gets wiped off the map," said Labour councillor Mr Evans.
"But the people of Stanwell, north Ashford and the rest of that part of the world don't realise that a new runway will mean planes taking off and landing directly over Stanwell village itself.
"This is an information meeting to try and let people know what's happening."
'Allay concerns'
The commission is also considering expansion proposals from Gatwick and Stansted.
London mayor Boris Johnson, wants to see a new airport to the east of London to replace Heathrow.
Heathrow spokesman Nigel Milton said the airport would do its best to answer people's questions at the meeting and allay their concerns.
"But I think we do have to accept that there is going to be considerable uncertainty for the time being," he said.
"It is a very complicated issue.
"At least one in five of the residents of Stanwell and Stanwell Moor have jobs at the airport.
"Local people are impacted by the noise and traffic congestion of the airport but they also do benefit hugely from the economic benefits."