North Sea diving death: Christopher Vanstone named as victim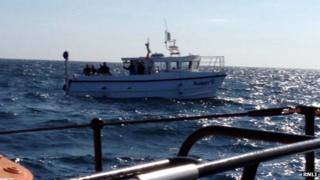 A man from south London who drowned on a diving trip in the North Sea off the Norfolk coast has been named by police.
Christopher Vanstone, 49, from Brixton, died on Friday despite "extensive efforts" by fellow divers to save him, Norfolk Police said.
He was airlifted to the James Paget Hospital but was dead on arrival.
Six people from the boat were interviewed by Suffolk Police in Lowestoft, but a spokesman said there were no suspicious circumstances.
A post-mortem examination carried out at the hospital in Gorleston at the weekend confirmed Mr Vanstone died as a result of drowning.
A second diver assessed at the hospital was discharged.
The divers were on a "recreational trip" 17 miles (27km) off Great Yarmouth when Mr Vanstone drowned.
An inquest into his death will be carried out at a later date.