Badger cull: Environment secretary reports pleasure at progress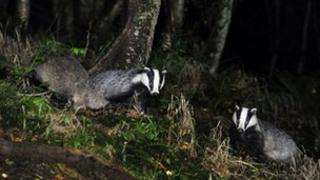 A pilot badger cull is "proceeding to plan" and organisers are "pleased with progress to date", Environment Secretary Owen Paterson has claimed.
The cull, which opponents say is inhumane and ineffective in tackling bovine TB, has begun in Somerset and is due to start in Gloucestershire.
No-one from the cull will say how many badgers have been shot or killed.
Mr Paterson said in a statement to the Commons the cull was "based on the best available scientific evidence".
Target of 5,000
Initially the pilot will not examine how successful culling is in reducing the spread of TB to livestock.
The pilot will test whether the cull can be carried out "effectively, humanely and safely".
It will test whether trained marksmen can shoot a badger in the heart and/or lung area without causing any unnecessary suffering, meet the planned cull targets and ensure there is no risk to public safety.
Defra, the government department responsible, hopes to kill 5,000 badgers (70% of the local badger population) over a six-week period.
A spokesman for the department said it had received no reports of badgers being injured but not killed so far, and that the companies carrying out the shootings would have to say if this happened.
Mr Paterson said in his written statement: "The outcome of the pilot cull and an analysis of the monitoring will be published.
"The evidence will be considered by ministers in deciding whether or not the policy should be rolled out more widely."
He also said culling was one part of a broader TB strategy for ridding England of the disease over the next 25 years.
Other parts of the strategy include disease surveillance and development of new badger and cattle vaccines.
Anti-cull camps
Mr Paterson said: "This pilot cull is a necessary part of a wide range of actions that we need to take if we are to free the cattle industry from the burden of this devastating disease.
"We wish to see healthy cattle living alongside healthy wildlife."
The number of badgers killed so far has not been given.
A Defra spokesperson said: "Details of the ongoing operation are not being released while the culls are taking place.
"A full report will be published once the pilots have concluded."
The cull has provoked protests from animal charities and campaigners who have built camps near the cull zones.
They want the emphasis to be on vaccines and tighter cattle movement measures rather than killing badgers.