'Wall of silence' over Gloria Foster's death in Surrey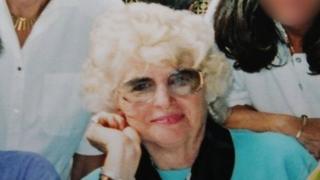 Questions about the death of a pensioner left for nine days without food or medication have met a "wall of silence", opposition councillors say.
Gloria Foster, 81, from Banstead, died in February after her care agency shut with no replacement, following a raid by police and the UK Border Agency.
Leader of Surrey County Council Liberal Democrats, Hazel Watson, said a council inquiry had dragged on too long.
A council spokesman said it would be inappropriate to comment.
Agency Carefirst24, which provided carers four times a day in Mrs Foster's home, was shut down after it was raided in January.
Mrs Foster was found by a district nurse suffering from dehydration and starvation and died in hospital two weeks later.
In May, Surrey Police said no criminal charges would be brought but an independent review by Surrey Safeguarding Adults Board has still not been published.
The opposition Lib Dems have tabled a written question to the county council's adult social care select committee on Thursday asking for more details.
"The important thing is that we get answers," said Ms Watson.
"A person has died in very tragic circumstances and Surrey residents need to know what happened and why.
"We need the report to be published as soon as possible.
"Gloria Foster died seven months ago and it has dragged on too long.
"There has been an absolute wall of silence from Surrey County Council."
The council's investigation has previously been criticised by local MP Paul Burstow and former leader of the county council Dr Andrew Povey.
Mrs Foster's friend Vivien Saunders has said somebody must be at fault over her death.
"It is just absolutely tragic," she said.
"She was a larger-than-life person and it's terrible that her life would finish in this way and we do want answers."
A council spokesman said it would be inappropriate to respond before the select committee had had the opportunity to answer Ms Watson directly.
Council rules state the question may be answered in writing or verbally on the day.