Swindon to Kemble rail services 'return to normal'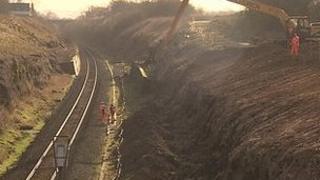 Rail services between Swindon and Kemble have returned to normal following three weeks of work, Network Rail has said.
The route has been closed as part of a £45m project to upgrade it to a two-track operation.
In August, an engineering train derailed causing damage to the track between Minety and Swindon which threatened to delay the project.
But Mavis Choong, from the company, said it was "on track" with progress.
Electrification project
"We had to close the railway line for the last three weeks primarily so that we can align the existing track to make room for a new track to go in, also to install switches and crossings and also to carry out some upgrading work on the signalling equipment," she said.
"We couldn't have done that without closing the railway".
The overall project is expected to be completed by Easter 2014 and it is hoped it will reduce passenger delays and improve train reliability.
The upgrade of the route between Kemble in Gloucestershire and Swindon in Wiltshire to a two-track operation comes ahead of the Great Western Main Line's electrification.
The line was "singled" in the late 1960s as a cost-saving measure by British Rail, under agreement with the government.
Adding the second track is expected to allow up to four trains per hour to travel on the line in each direction.
A replacement bus service operated between the two stations while the work was under way.