Watchmaker Dr George Daniels' legacy 'coming to fruition'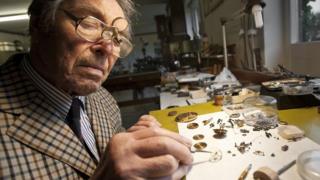 Students at a London University are set to become the first to benefit from scholarships paid for by the late Isle of Man watchmaker Dr George Daniels.
Following his death in 2011, Dr Daniels personal collection of watches and clocks was auctioned, raising more than £8m for his Educational Trust.
City University will award two doctoral studentships and five undergraduate scholarships.
Dr Daniels made every component of his watches by hand.
It was a task which involved mastering more than 30 long-forgotten skills to painstakingly craft 150 individual components, before developing a mechanism which ensured absolute accuracy.
'Works of art'
Each of his creations - regarded as works of art by many - could take more than 2,500 hours to complete.
The scholarships will be awarded to seven students following electrical engineering and instrumentation studies in the coming academic year.
Dr Daniels attended London City's predecessor, the Northampton Institute, and believed that his outstanding success as a horologist was linked directly to his time as a student.
A University spokesman said: "He was sensitive to the difficulties university students faced accessing grants, scholarships and reasonably-priced accommodation in London".
The Trust has also granted funds toward the establishment of the George Daniels Chair in Scientific Instrumentation and the George Daniels Research Lectureship in Measurement & Instrumentation.
Trust chairman David Newman said: "George was passionate about enabling promising students who would otherwise face difficulties and we have worked painstakingly to ensure George's legacy will come to fruition."
In a career spanning 60 years, Dr Daniels dedicated himself to the pursuit of watchmaking perfection.
The most successful of his inventions, the co-axial escapement, won him international acclaim and is regarded by experts as one of the most significant horological developments in 250 years.
The university plans to celebrate his life and work at the inaugural George Daniels Lecture on 18 September.
The event will also see the University Clock in the College Building renamed The George Daniels Clock in his honour.