Sandringham death: Replicas of Alisa Dmitrijeva's clothes shown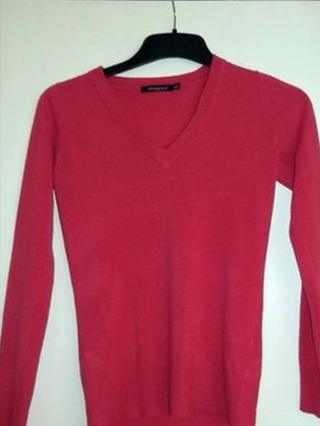 Images have been released of missing clothing similar to that worn by a Latvian teenager whose body was found on the Queen's Sandringham Estate.
Alisa Dmitrijeva's body was found in woodland in Norfolk on New Year's Day 2012.
Two men questioned over the death of the 17-year-old girl from Wisbech were later released without charge.
She was last seen in Friar's Street, King's Lynn at 00:15 on 31 August 2011 in a green Lexus car with two men.
The detective heading the inquiry said the solution to the case lay in the local Latvian, Lithuanian and Russian populations.
Police have released images of a pink v-neck jumper, black zip-up coat and a black LG GM360 phone which are all missing.
Her partially-clothed body was found in a copse at Anmer, known as French's Covert Belt, by a member of the public.
'Socialising on beach'
Despite extensive enquiries and tests, police have been unable to confirm exactly how or when Alisa died but continue to treat her death as suspicious.
Det Insp Marie James said: "We absolutely know there are individuals out there who know how and why Alisa died.
"We also believe there are other people with important information who may have previously been too scared to come forward.
"Her family want answers and we need to bring those responsible to justice."
Alisa moved to the UK from Latvia in 2009 and lived with her family in Railway Road, Wisbech.
It is thought she may have socialised with friends near Snettisham beach on the night she went missing.
Ms James said: "We know Alisa socialised within the young local Eastern European communities in Wisbech and King's Lynn.
"We hope that, two years after she went missing, allegiances may have changed and people with important information, if they didn't have the confidence at the time, will now feel able to come forward."