Stafford Hospital death: John Moore-Robinson second inquest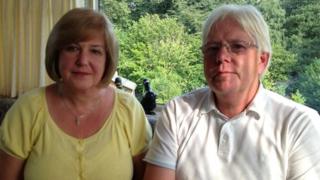 A second inquest will be opened into the death of a Leicestershire man who was misdiagnosed by hospital staff.
John Moore-Robinson died in 2006 after Stafford Hospital staff failed to diagnose a ruptured spleen but said he had bruised ribs. He died hours later.
The first inquest returned a narrative verdict but Mr Moore-Robinson's family have argued for a fresh hearing after new evidence came to light.
His father said the family was "satisfied" they would "get the truth".
Mr Moore-Robinson, 20, from Coalville, was taken to A&E at Stafford Hospital after falling off his bike on Cannock Chase.
He was discharged after staff diagnosed him with bruised ribs.
Following the first inquest in 2007 an internal report from the hospital said Mr Moore-Robinson's treatment could have been negligent.
Two members of staff in the Mid-Staffordshire Hospital Trust's legal department were investigated for suppressing information about the death, but later cleared.
Since then Frank Robinson and his family have been campaigning for a fresh inquest and wrote to the Attorney General.
Mr Robinson said: "It has been a long, hard road. It has been very difficult at times but we always knew we were fighting for a just cause.
"I always argued there should be a second inquest following the public inquiry and new evidence coming to light.
"From day one we have asked for a full, thorough investigation into John's care and for the truth, and we feel we will now get that."
On Wednesday the High Court agreed a new inquest could be held.
South Staffordshire Coroner Andrey Haigh said: "The second inquest is by way of a consent order based on the fact that new evidence which was not available at the time of the first inquest has come to light."
The original verdict will now be quashed and a new inquest could open in Leicester by next week.