Mike Nattrass MEP loses UKIP de-selection challenge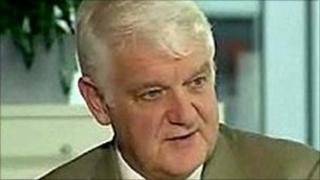 A West Midlands MEP who mounted a legal challenge against his own party has had his case dismissed.
Mike Nattrass was told he would not be selected to stand for UKIP in the next European elections because he failed a selection test.
A judge at Birmingham civil justice court told him "politics isn't fair", said Mr Nattrass.
UKIP Chairman, Steve Crowther, said: "Common sense has prevailed. The system is designed to be fair and it is fair."
He added: "Everyone goes through the same selection process, even [party leader] Nigel Farage."
'Nail jelly'
UKIP's candidate selection process involves a two-hour assessment which includes public speaking, an interview and a written test.
Applicants are graded and those with the top grade are placed on the party's national approved list of candidates.
When told he had failed the candidate assessment, Mr Nattrass said: "I just want the members to decide who should stand, that's what the party rules say but those rules have been broken."
After his legal case was dismissed, Mr Nattrass said "I did not get a proper opportunity to speak or explain why I think the system is unfair.
"It was like trying to nail jelly to the ceiling."
A former chairman and deputy leader, Mr Nattrass said he continued to support the party: "I have not been disloyal.
"I stand by my opinion that the selection process is a fiddle and a fix."
In 2012 Mr Nattrass said he would retire before the European elections in 2014, but he changed his mind shortly afterwards.
His constituency covers Herefordshire, Shropshire, Staffordshire, Warwickshire, the West Midlands and Worcestershire.