DHL workers at Jaguar Land Rover walk out over pay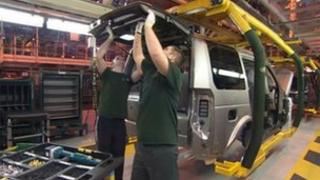 Workers employed by a firm that delivers parts to car manufacturer Jaguar Land Rover [JLR] have walked out in a row over pay.
Four West Midlands sites and two at Halewood, Merseyside, have been affected, delivery firm DHL said.
JLR urged the Unite union and DHL to resolve the dispute as soon as possible.
DHL Unite members at the sites walked out for half an hour at the start of their shift.
Overtime has been banned for the day.
Unite said the action was about pay, terms and conditions and "trying to establish some comparability to some JLR rates of pay".
DHL said warehouse operatives and drivers already enjoyed attractive rates of pay and shift allowances.
'Generous offer'
The four West Midlands sites affected are the JLR plants at Solihull and Castle Bromwich, the NAC Tyre Fort storage warehouse near the Castle Bromwich site and the Hams Hall distribution centre, Unite said.
The Halewood plant was also affected along with an NAC site nearby, the union added.
Unite's Tim Parker said: "Over the past four weeks we've had three sets of negotiations and unfortunately the employer hasn't seen fit to be able to move sufficiently for us to be able to resolve this dispute satisfactorily.
"There's another set of pay negotiations tomorrow which will be critical, we believe, in terms of resolving the dispute."
A spokesperson for DHL said the company was disappointed Unite members had decided to take industrial action in response to its "generous offer", including this year making a pay offer worth 6.2%.
The spokesperson said "For 2014 we have offered a minimum 3% increase or RPI. This would make our staff among the highest paid in the logistics sector.
"Unite accepts that our employees, who do an excellent job in supporting automotive manufacturing for the customer, do not undertake comparable work to our customer's employees who actually build the cars. Therefore, any claim for similar pay and conditions is flawed."
Unite said the action also involved companies described by DHL as a subcontractor and a firm providing agency staff.
JLR said it was "disappointed that DHL Unite members have decided to take industrial action".