Pontins in Pakefield 'misled' with kitchen photo, ASA rules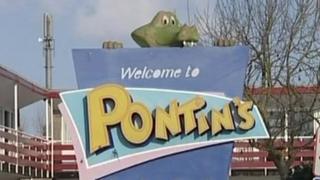 A Suffolk holiday park misled customers with a brochure which implied rooms had a fitted kitchen, the Advertising Standards Agency (ASA) has ruled.
The Pontins brochure included photos of a kitchen and apartment floor plans with a kitchen area, oven and sink.
The ASA upheld a complaint that Pakefield Holiday Resort's self-catering accommodation had a microwave, toaster and fridge, all in one bedroom.
Pontins said it had stated images were for illustrative purposes only.
The ASA ruled the ad was misleading and in breach of the code and that the brochure must be changed.
Under a heading "self-catering", the brochure had stated: "Get the flexibility of using our fantastic restaurants and food outlets which give you the ability to prepare and cook your meals in the comfort of your own apartment."
'Petite kitchenette'
Several images of Pontins' accommodation were used, including an image of a kitchen with hob, oven and sink.
The brochure also stated that one of three room types, called the Popular, included a fitted kitchen, with floor plans showing a defined kitchen area, oven and sink.
In response to the ASA, Pontins said Pakefield did not have the room type in question but most of its apartments had a "petite kitchenette" of a toaster, fridge and microwave, with a limited number having a hob and a sink.
Pontins added that Pakefield was "being developed" at the time of the brochure so images of its apartments could not be used, but said it had included a disclaimer that the images were for "illustrative purposes only".
The company said the brochure did not claim apartments had a fitted kitchen, and that its website now showed accommodation options at Pakefield, and call centre staff gave full details of what was in each apartment at the time of booking.
The ASA said it understood Pontins' explanation but noted that consumers would understand its general description of all self-catered apartments to mean that they included facilities to prepare and cook a family meal, rather than simply a fridge, toaster and microwave.
The agency told Pontins to ensure it "clearly communicated to customers what facilities were offered".