'Bullied' Follett Stock solicitor Kate Baker settles claim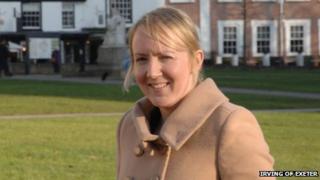 A solicitor who said her boss wanted her to stay single and not have babies has settled her discrimination claim.
Kate Baker, 33, alleged law firm Follett Stock sacked her because of her gender after she began a relationship.
Miss Baker, from Budleigh Salterton, Devon, had told an employment tribunal there was a "bullying culture" created by manager Chris Lingard.
The firm denied the claims. Now both parties have said they were "pleased to confirm" they had reached settlement.
A six-day hearing due to be held this week into Miss Baker's claims of sexual harassment, sexual discrimination and unfair dismissal will not now go ahead.
'A real hit'
Miss Baker, who earned £45,000 a year, worked in the firm's Truro and Exeter offices.
At a hearing held in Exeter in January, her barrister James Bax said managing partner Mr Lingard used Miss Baker as a "distraction" at meetings with important clients.
The tribunal judge read her statement which said: "Mr Lingard on many occasions told me that he did not want me in a relationship or to have babies."
Follett Stock's defence was not heard in January because it missed the deadline, but Guy Hollebon, who represented the firm, said Miss Baker's bullying and harassment claims were denied.
He added that some important clients were impressed with Miss Baker and seemed to like her, describing her as a "real hit with them", but denied this was to do with her gender.