Norfolk PCC Stephen Bett discusses 'blue light' mergers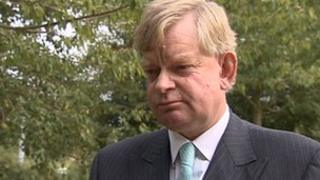 A proposal for closer links between "blue light" services to cut costs has been discussed by Norfolk's police and crime commissioner, the government and fire chiefs.
Stephen Bett said he was happy to look for a way to help emergency services to work together to cut costs.
But he needed "sufficient time" to consult before forming a merger plan.
The Fire Brigades' Union said it would talk about ways to save money but would not consider amalgamation as an option.
Mr Bett, an independent PCC, said there was no rush despite heavy hints from Home Secretary Theresa May and government officials about the need for amalgamations of the three emergency services.
'Ideologically driven'
The first stage could involve fire and police officers working out of the same building and sharing control rooms.
Mr Bett said he expected opposition from the Fire Brigades' Union but said a pilot needed to be carried out into the feasibility of the project.
There was also a problem because fire and police services were organised on a county basis but ambulances worked regionally.
Kevin Game from the Fire Brigades Union said there was some scope for the services working closer together especially if it brought savings.
"But amalgamation is a no-go area especially under a police and crime commissioner," he said.
"Fire, police and ambulance are front-line services run by professionals with expertise and knowledge.
"The government proposals for amalgamation is a further attack on these front-line public services and is ideologically driven.
Norfolk's fire chief Nigel Williams was unavailable to comment but has been reported in the Eastern Daily Press as being in favour of the services working together to get better deal when buying vehicles and equipment.
However, he said there would be no changes if the service to local people was compromised and a lot more people needed to be consulted.