Black grouse population boosted by good weather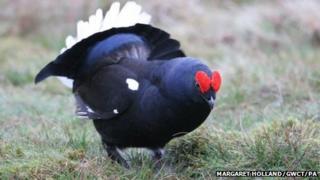 Warm weather has resulted in a record-breaking breeding season for rare black grouse, conservationists have said.
The birds were once common in southern England, but are now found only in four upland areas in Northumberland, County Durham, North Yorkshire and Cumbria.
An annual breeding count by Game and Wildlife Conservation Trust (GWCT) count found that, on average, each hen had produced more than four chicks.
This was almost four times the number reared in previous years.
Some hens were spotted with 10 or 11 young.
Dr Phil Warren from the GWCT described this as "quite exceptional".
He said: "This is all in stark contrast to last year when breeding productivity was appalling and one sample of 35 hens found only raised seven chicks between them.
"Last year it was cold and wet and this year it has been warm and dry.
"Warm dry conditions mean an abundance of insects such as sawfly larvae which young chicks depend on when they first hatch."
There has been a big drop in black grouse numbers since 1970, due to factors including habitat loss and increasingly intensive agriculture.
This has led to them being given RSPB red status - the highest conservation priority.
Dr Warren said: "This bumper breeding is extremely encouraging and we expect to see this reflected in an increase in males attending leks [a gathering to compete for mates] next spring."