M1 managed motorway scheme puts 'lives in danger'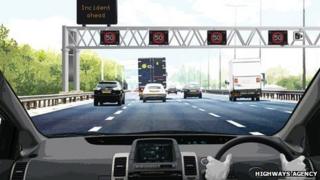 Allowing motorists to drive on the hard shoulder of the M1 motorway will put lives "in danger", a high-ranking police officer has said.
Ch Insp Mark Bownass, of West Yorkshire Police, said both motorway users and police officers would be endangered by the new arrangements.
The changes are to be made between junctions 39 to 42 in West Yorkshire and 32a and 35 in South Yorkshire
The Highways Agency said the scheme would maintain or improve safety.
Under the plans, the motorway's hard shoulder will be converted to a permanent traffic lane. Similar schemes on other motorways operate only during particular times of heavy traffic.
More than 113,000 vehicles use the section between junctions 39 to 42 each day, according to the Highways Agency.
Ch Insp Bownass said: "My main concern is the safety of the public, making sure people... get home safely.
"I feel with the configuration of the M1 that is not going to happen. We will have people put in danger."
'Tackle congestion'
The BBC has seen a letter from a government minister saying "there is a likely increase in safety risk of around 200%" for a vehicle stopped in the live lane during the off-peak period.
Stephen Hammond, Parliamentary Under Secretary of State for Transport, went on to say the increase was "tolerable given that overall safety is expected to improve".
A Highways Agency spokesperson said: "We are confident that the new design of managed motorways will tackle congestion on some of the busiest sections of motorway, while at the same time maintaining or improving safety.
"The design changes will make managed motorways quicker to build, more efficient to operate and more intuitive for drivers, without reducing the overall safety for road users.
The West Yorkshire Resilience Forum said the concerns about the M1 scheme were shared by West Yorkshire Police, South Yorkshire Police, Yorkshire Ambulance Service and South Yorkshire Fire and Rescue.
The forum co-ordinates the response to civil emergencies.
The start of construction between junctions 39 and 42 is planned to be in financial year 2014-15 and to last about two years. The start date for the South Yorkshire scheme has yet to be confirmed.
A consultation into the scheme ends next month.