Torch relay for British Special Olympics begins in Shropshire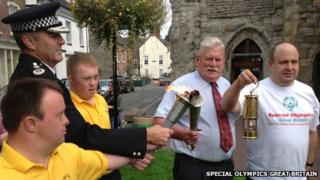 A torch relay for the British Special Olympics has begun in Shropshire.
Ahead of the 2013 National Summer Games in Bath next week, a torch has left the Guildhall in Much Wenlock and will be taken to Cornwall.
Special Olympics GB are taking the Flame of Hope around the south-west of England before finishing at the opening ceremony in Bath on 28 August.
The games, held every four years, will see 1,700 athletes with intellectual disabilities compete over three days.
The torch will be used to light the cauldron at the opening ceremony at the Royal Crescent, which is expected to attract an audience of about 7,000.
It will also visit Falmouth, Plymouth, Exeter, Barnstaple, Swindon, Cheltenham and Bristol.
Special Olympics athletes, police and dignitaries will be welcoming the torch and athletes from the South West will accompany it into the opening ceremony.
There are 12 sports at the games, including boccia, 10-pin bowling, swimming and artistic gymnastics.