Colchester Zoo penguin has cataract operation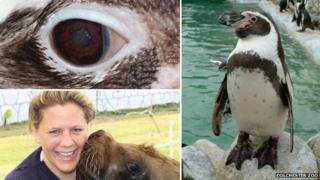 A penguin from Colchester Zoo has had successful surgery to remove cataracts.
Wellamy, a 19-year-old Humboldt penguin who has spent her life at the zoo in Essex, was treated by the Animal Health Trust (AHT) in Newmarket, Suffolk.
The zoo said she had been having difficulty mixing with other penguins since her sight deteriorated.
The AHT, which believes it was the UK's first penguin cataract operation, said Wellamy was back to her "normal, gobby self" again following the surgery.
'Real character'
The Humboldt, which is native to the Pacific coast of South America, has a life expectancy of about 20 years in the wild.
Vets said Wellamy's vision had become extremely impaired, especially underwater, and severe inflammation was causing her discomfort.
Kate Broad, a penguin keeper at Colchester Zoo, said: "Wellamy was hatched here so we've grown very close to her.
"She is a real character and we're extremely pleased that, thanks to the treatment she's received, she will be able to live a much happier life."
The AHT team had been to Colchester to monitor her recovery.
Claudia Hartley, head of ophthalmology at the AHT, said: "Wellamy's eyes have healed really well and this was an amazing experience for us as vets.
"The transformation was really quite incredible from my first visit where she was very subdued and wasn't mixing with the other penguins.
"She's really full of herself, crowing with her mates and back to her normal, gobby self."