New watercraft code of conduct for Plymouth Sound and the Tamar Valley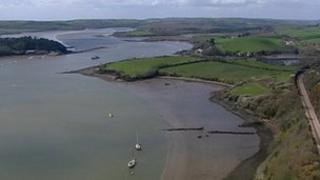 A new code of conduct has been issued for the use of watercraft, such as sea scooters, in the Plymouth Sound and estuaries in the Tamar Valley.
The code provided information on speed limits, as well as the locations of high-speed areas, launching sites and bathing areas, publishers said.
It also described how to behave around marine mammals and protect sensitive habitats, they added.
Copies are available from marinas, harbours, chandlers and boating clubs.
The code covers the waters of Plymouth Sound and the tidal waters of the rivers Yealm, Plym, Lynher up to the confluence [junction] of the rivers Tamar and Tavy.
It has been produced by a partnership of the Queen's Harbour Master in Plymouth, Cattewater Harbour Commissioners and the Tamar Estuaries Consultative Forum (TECF).
They said: "Personal watercraft, along with all water users, have a duty to look out for others, and to ensure they ride in a safe and responsible manner."