Royal College of Nursing: North hospitals 'struggling to cope'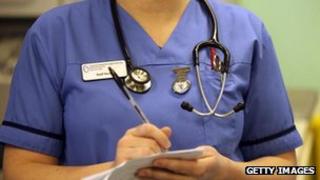 Some hospitals in the North East are "struggling to cope" amid reductions in bed numbers and levels of staff experience, the Royal College of Nursing (RCN) has claimed.
The RCN sent freedom of information requests to NHS trusts asking for figures dating back to 2010.
It found a shift in the "skills mix" of hospitals meant there were more junior and unregulated staff on wards.
NHS England said the region's trusts provided "safe, high quality" services.
The RCN review found there were more than 450 fewer beds across the region, although some trusts had increased the numbers of beds.
It said there was also "clear evidence" that trusts had more "junior and unqualified staff".
'Not efficient'
Regional director Glenn Turp said: "Our findings show that, while some trusts are valiantly trying to avoid cutting nursing jobs in the face of ever more challenging financial targets from central government, others are struggling to cope."
Trusts in Gateshead and North Tees and Hartlepool have seen the biggest falls in bed numbers, the review found.
Gateshead lost 127 beds in three years while North Tees and Hartlepool's numbers fell by 73 in the same period.
Bed numbers at Darlington Memorial Hospital increased from 361 to 385.
A spokesman for NHS England said the overall "slight reduction" in bed numbers was down to the success in providing more services outside of hospitals, closer to patients' homes.
The RCN's review found that, in total, £26m was spent on redundancy packages. Northumberland Tyne and Wear NHS Foundation Trust accounted for almost £6m.
Payments for bank shifts and overtime totalled about £182m, the freedom of information replies showed.
Mr Turp said it would be more "cost efficient" to have the "right number" of permanent staff.
NHS England said recruitment was the responsibility of individual trusts but it would always intervene if patient safety was at risk due to staffing levels.
Mr Turp said staff were continuing to provide an "excellent service" but it was becoming "more and more difficult" to maintain care standards.