Dorking 'green' group in favour of fracking
By Sally Nancarrow
BBC South East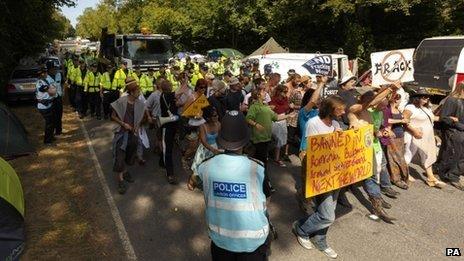 Opposition to energy companies wanting to get at the oil and gas reserves beneath a large swathe of the south of England is fierce.
At Balcombe, West Sussex, 1,000 protesters took part in demonstrations which closed roads and led to dozens of arrests.
In Fernhurst, on the West Sussex/Surrey border, residents are squaring up to oppose a forthcoming application to drill for oil.
And at Leith Hill, near Dorking, residents have spent four years opposing drilling for oil and gas in the Surrey Hills Area of Outstanding Natural Beauty.
So will people always try to protect local environments against the search for new sources of energy?
One group in Surrey set up to encourage sustainable living has come out in favour of exploration and fracking, the process which may have to be used in future to extract the oil and gas.
Transition Dorking says it has surprised even itself.
But it looked at the evidence and came to the conclusion producing fuel locally may be less damaging to the environment than importing fossil fuels.
"We can't move straight away to a future in which a very high proportion of our power requirements are generated by renewable resources," said spokesman Nick Wright.
"Renewables are about 11% of electricity generation now but a much bigger proportion - about 40% - is being generated by imported coal burnt in British power stations.
"In addition to that, gas is being brought in in liquefied form from the Middle East.
"When you burn it, the impact on the environment isn't only to do with burning the fuel, it is to do with how you got hold of it and how you shipped it to where you are.
"There's no reason why fracking, if it is properly regulated, should not be a perfectly normal part of oil industry operations."
Technically, Transition Dorking "may well be right", according to Professor Matthew Leach, head of the centre for environmental strategy at the University of Surrey.
But the wider environmental argument is about whether we should be using fossil fuels at all or putting more effort into developing renewable energy.
Prof Leach said coal is imported to the UK from countries as far afield as the USA, Australia, Russia and the Middle East.
Much of the imported liquefied natural gas is shipped to the Isle of Grain in Kent, the UK's second largest depot, where it is stored in giant tanks before being processed and fed into the national gas grid.
"If you can produce it locally you don't get the environmental impact associated with shipping oil, gas and coal halfway round the world," said Prof Leach.
"But the environmental impact of shipping is relatively small compared with the environmental impact when you burn it in a car, for example."
No permits for fracking have so far been granted in the Weald, which stretches from Hampshire, through Surrey and Sussex to Kent, but Prime Minister David Cameron expressed his support for the process earlier this month.
Prof Leach said energy companies might in future apply for fracking licences at any of the oil and gas exploration sites in the south east.
"Very often companies will extract a certain amount and as the rate of recovery begins to decline fracking becomes interesting to keep the oil or gas flowing at an economic rate," he said.
He added local opposition to oil and gas exploration would always be likely in such a densely populated country as the UK, and in the Weald the visual impact of industrial activity would tend to give rise to opposition.
In Balcombe, the protest camp remains but has now been scaled down.
Meanwhile on the Surrey/Sussex border, opposition is gathering pace even before the expected drilling application has been made to the South Downs National Park Authority.
On Thursday, Frack-Free Fernhurst drove a heavy goods lorry through some of the narrow lanes that would be used to bring vehicles from the A3 at Liphook, via Shottermill at Haslemere, to the drilling site.
"The aim was to demonstrate the impact that heavy vehicle use of the route would have on the local residents," said Chairman Marcus Adams.
"It has some very narrow country lanes with pinch points and difficult passing places and will go past two schools.
"The exploration company have put in their brochures they would expect to see 70 lorries in and out per day and during construction of the rig it would be more than that.
"We didn't advertise it as a protest as such but about 50 or so people were there."
Related Internet Links
The BBC is not responsible for the content of external sites.